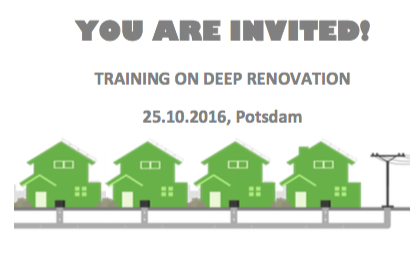 10 Oct

Join training on deep renovation 25.10.2016

EURHONET and the DREEAM consortium are organising a training event for housing associations and local authorities in Europe on key topics around deep renovation.

This is an invitation-only event intended to foster exchanges and learning around renovation-related topics of increasing importance to housing associations in Europe.

Who is the training aimed at?

The training is targeted at decision-makers in housing associations and local authorities, involved in strategic planning or implementation of renovation projects.

Why you should participate?
INSIGHTS ON KEY TRENDS: you will get an overview from leading experts on key funding, technical and regulatory developments in the renovation sector (see next page).
DISCUSSIONS: you will have the chance to exchange with experts and other housing associations on your experience with deep renovation. Your insights will be gathered to prepare follow-up training sessions, targeted to your specific needs.
DREEAM REPLICATION PROGRAMME: you will find out more about the DREEAM replication programme. DREEAM is aiming to provide, free of charge, capacity building to housing associations and cities.
Please sign up for the event until 14th October 2016 by following this link.
In case of questions please contact Alessandro Cesale (alessandro.cesale@eurhonet.eu) or Izabela Kurkowska (Izabela.kurkowska@chalmers.se).
Agenda and speakers